We receive frequent requests for an integrated amplifier without the vu-meters and also equipped with a power stage featuring less power (70 Watts per channel @ 8 Ω) than our Embrace (100 Watts per channel @ 8 Ω).
From listening to your needs, an opportunity was born: we created Aquarius.
Aquarius shares with Embrace the preamplifier section, equipped with a pair of NOS tube, and the power stage, which uses the excellent Silicon Carbide (Si-C) mosfets.
Separate power supply unit can rely on no less than three generous toroidal transformers: a pair dedicated to the preamp section and the third, centrally located for proper weight distribution, to supply the power stage capable of delivering 70 watts per channel @ 8 Ω.
Four prestigious ClarityCap ESA series polypropylene capacitors (two per channel) decouple the audio signal to achieve, together with ECC82 (12AU7) NOS tubes and Si-C mosfets, amazing performance both in sonic  result and in relation to the list price, which is lower than the Embrace.
Aquarius, instead of being the "younger" brother of the Embrace, it is the opportunity offered by Audiozen to be able to get hold of a unique integrated amplifier on the market in its price range and beyond. Unique even more because of the choice to make the Italian character of this handcrafted creation recognizable, not only through the transparent cover that highlights its painstaking internal engineering, but also because of the choice to equip the Aquarius with writing in Italian: at present it is the only creation on the high-end audio market with such that peculiarity.
Turning on the tube section and the power stage is manageable by switching the aluminum knob located on the separate power supply unit: from inside the Aquarius main unit, through the transparent perspex cover, a warm red light shows its operation.
Sonic result is stunning: tubes' warm nuances are amplified with extreme realism by the silicon carbide mosfets. Forget low-frequency tails, confusion, listening fatigue: here everything is solidly in place, with a sound endowed with great transparency, proverbial low-frequency control, for listening that is never fatiguing.
Aquarius has a modern, ergonomic remote control for volume control; on rear panel two pairs of rugged rhodium-plated binding posts ensure a perfect connection to speaker cables, whether they are stripped or terminated with banana plugs or spades.
I fianchi in doussié asiatico massello da 8 mm di spessore, le manopole dei commutatori ed i pannelli frontali in alluminio ricavato dal pieno, i robusti connettori RCA posteriori, completano il quadro di una creazione Audiozen concepita, a dispetto del prezzo, senza compromessi.
8 mm thick Asian doussié solid wood sides, aluminum knobs and front panels, sturdy RCA connectors: all of that complete an Audiozen creation conceived, despite the price, without compromises.
Aquarius was born to amplify your emotions, was developed to exceed your expectations, is as unique as those who choose it: it is an opportunity.
Aquarius (from "Hair")
When the moon is in the Seventh House
And Jupiter aligns with Mars
Then peace will guide the planets
And love will steer the stars
This is the dawning of the age of Aquarius
The age of Aquarius
Aquarius!
Aquarius!
Harmony and understanding
Sympathy and trust abounding
No more falsehoods or derisions
Golden living dreams of visions
Mystic crystal revalation
And the mind's true liberation
Aquarius!
Aquarius!
When the moon is in the Seventh House
And Jupiter aligns with Mars
Then peace will guide the planets
And love will steer the stars
This is the dawning of the age of Aquarius
The age of Aquarius
Aquarius!
Aquarius!
Galt MacDermot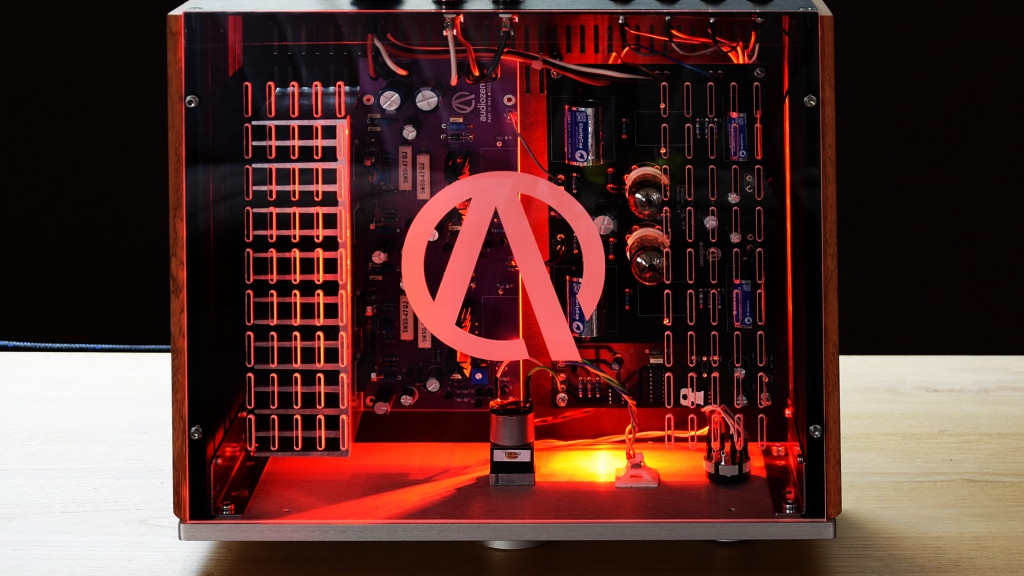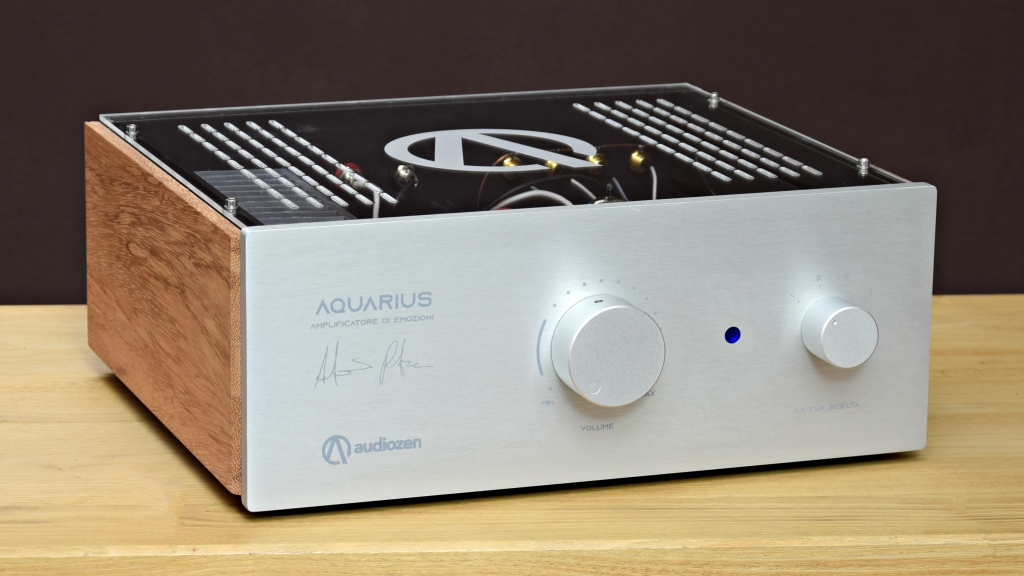 Bisogna essere davvero folli per affidare a qualcuno il volume delle nostre emozioni
Il tuo intelletto può confonderti, ma le tue emozioni non ti mentiranno mai
Il comportamento umano scaturisce da tre fonti principali: desiderio, emozione e conoscenza
L'emozione sorge laddove corpo e mente si incontrano
A volte le parole non bastano. E allora servono i colori. E le forme. E le note. E le emozioni.
Capire tu non puoi, tu chiamale se vuoi… emozioni…
Mi piace la regola che corregge l'emozione. Mi piace l'emozione che corregge la regola
Sento che la musica deve toccare le emozioni prima, e l'intelletto poi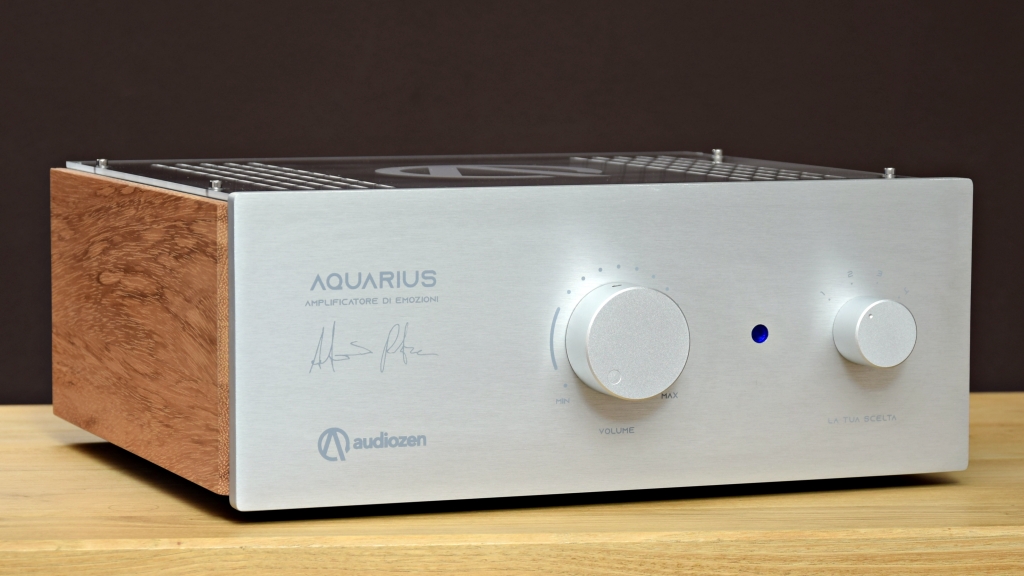 Audiozen Aquarius
emotion amplifier
Power output @ 8Ω - 4Ω: 70 - 120 W per channel in class AB

Frequency response: 20 - 50000 Hz +/- 3 dB

NOS tubes: 2 x ECC82 (or equivalent)

Available finishes: silver & black

Main unit dimensions and weight: 348x138x295mm (WxHxD) – 5,3 Kg.

PSU dimensions and weight: 348x98x245mm (WxHxD) – 6,5 Kg.