If you are here basically it is for two reasons: curiosity or enjoyment. Curiosity, interest in learning more, or the pleasure of reading the characteristics of these creations by Audiozen.
Of course, it could also be curiosity and enjoyment together, the two terms are almost opposite but on the other hand they can be complementary too.
Science, life, experience teach us that opposites have always attracted each other, they can indeed have to coexist, so as to found the deep essence of being complementary. Any object created by man is an act in itself, suitable for its function, for the purpose for which it was designed.
The monophonic amplifier is a product, like all the other creations in a company's catalog, then in a stereo system you will need two. Audiozen went further, designing and manufacturing two monophonic power amplifiers each with its own identity: this premise is a must to make you continue reading, because from now on there will be discussed technical characteristics and features of the two Audiozen monophonic amplifiers born as opposites and at the same time complementary, because one needs the other to amplify the two stereo channels.
Their names, one Yin and the other Yang, derive from ancient Chinese philosophy and best define the genesis and development of this project: Yin (black, darkness, negative) and Yang (white, brightness, positive) are two opposite concepts, one with respect to the other, but at the same time they are complementary and indispensable, essential for the existence of each of them and for the succession of any event. For the same philosophy, nothing can be completely Yin or totally Yang, everything, every living being contains the seed for its opposite; Yin and Yang are rooted in each other.
Features and characteristics
A basic idea, a project that takes shape: innovation and research driven by true passion and by the desire to express all of that with an aesthetic and a technological language up with the times.
A unique case in the world of solid-state power amplifiers, Yin and Yang have a specular design both externally and internally, forming two distinct realities, with their own strong identity. They merge together for perfect synergy, for the symbiosis of most performing stereophony.
A unique case in the world of monophonic amplifiers, Yin and Yang have two toroidal power transformers each, for a total power of more than 800 VA per amplifier and more than 130 Volts of voltage on power devices. The pair of oversized transformers is optimally assisted in their task by two rectifier bridges (with metal body) of more than 20 Amperes, and by four filter capacitors for a total of 43000 microfarads and more.
A unique case in the world panorama of solid-state power amps, Yin and Yang adopt innovative power devices: each amplifier is equipped with six high-current silicon carbide (Si-C) mosfets, semiconductor with advanced characteristics such as speed, low input and output capacities, and high efficiency. These particular mosfets allow a better damping factor, to have deep but controlled low frequencies, no unwanted coloration in the sound and greater reliability over time.
Yet another unique case, Yin and Yang are equipped with the exclusive enjoyment meter, the analog pointer indicator that indicates power not with numbers but with words. The enjoyment meter is in fact divided into as many "areas" of pleasure, from the subdued and meditative "Zen" volume level, to the limit of the first watts of power for the warm "sex" area preparatory to the "fun" central zone and then passes as the volume increases to the visceral "gig", just to indicate the sound pressure level of a concert, of a live event.
Yin and Yang can deliver 200 Watts continuous each at 8 Ohms load, and the power doubles at 4 Ohms. The smoothness of delivery is unmatched, from the very first watts immanence together with transparency give extreme naturalness to the musical event.
Yin and Yang massive cabinets, wide heatsinks and 10 mm thick front panels are made of aluminum; stainless steel was chosen for all small parts. Audiozen's attention to every single detail is proverbial for these creations designed and handcrafted entirely in Italy.
Yin and Yang are equipped with unbalanced inputs, on request it is possible to equip them with balanced connections.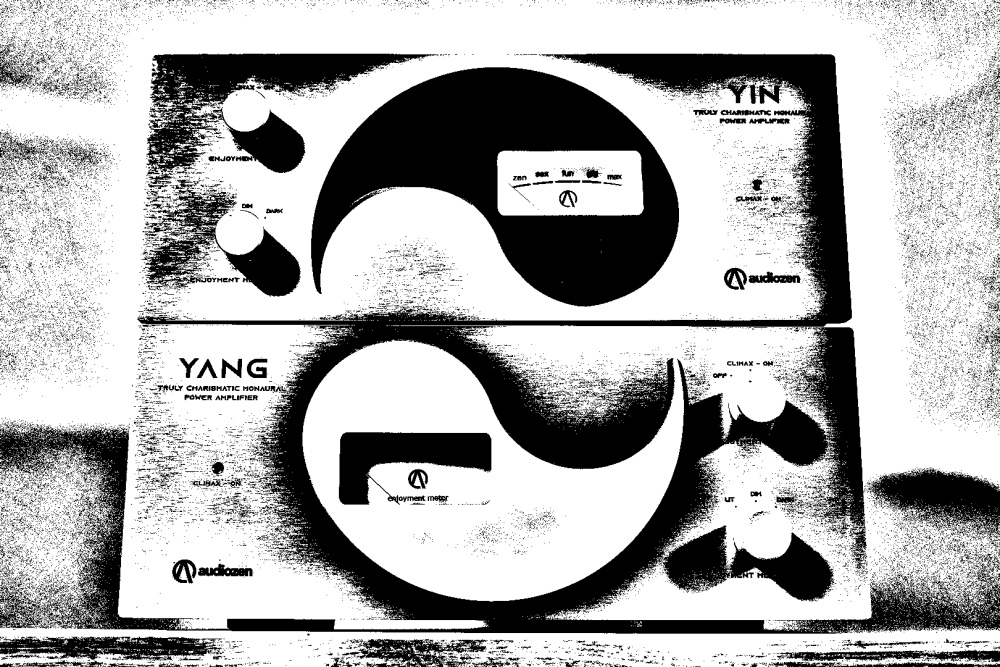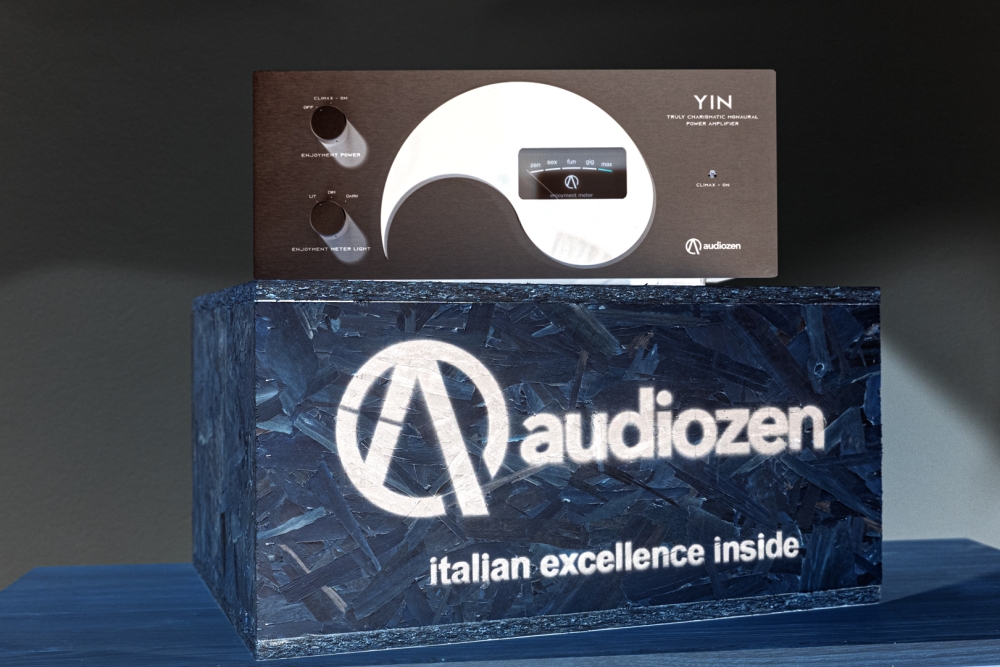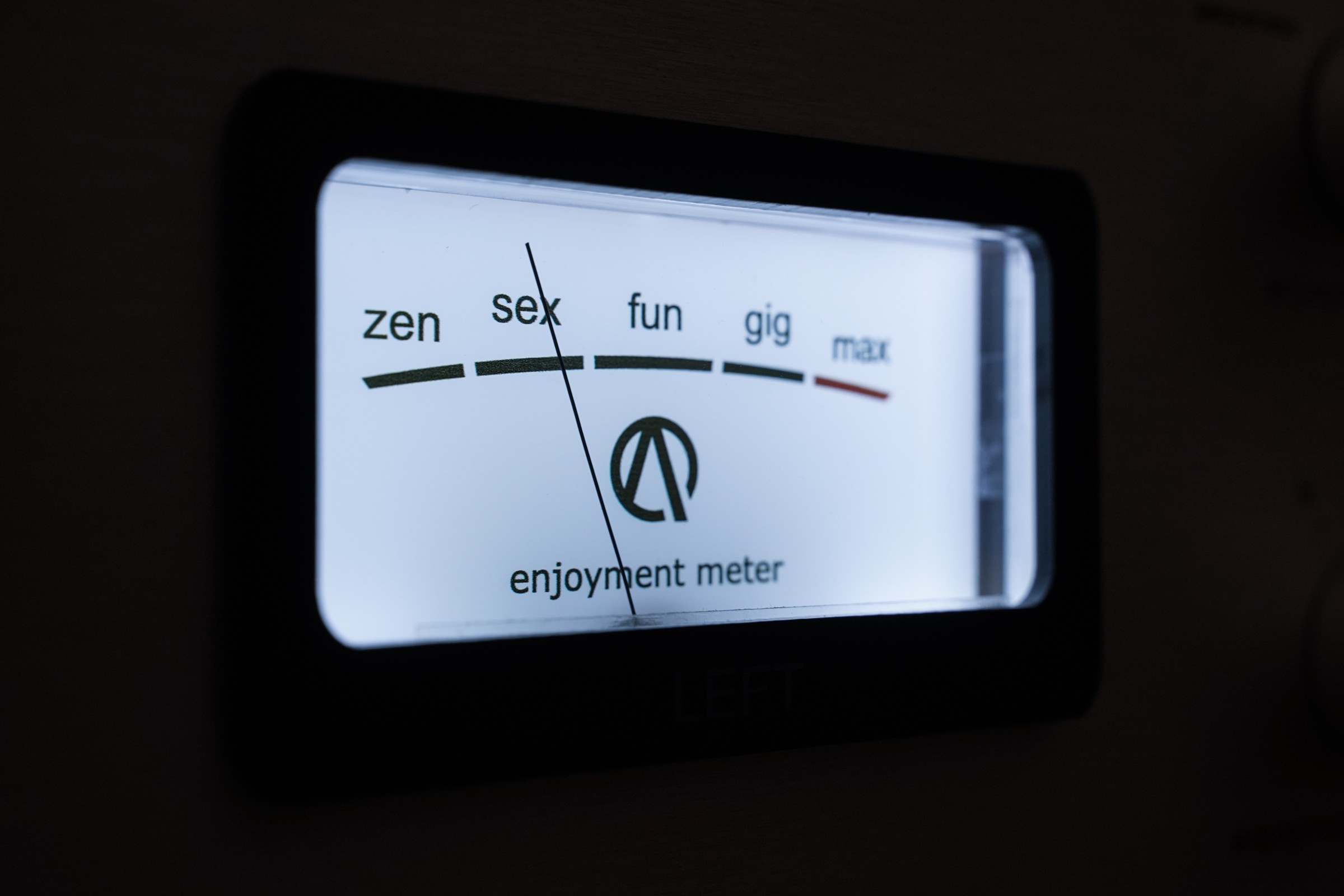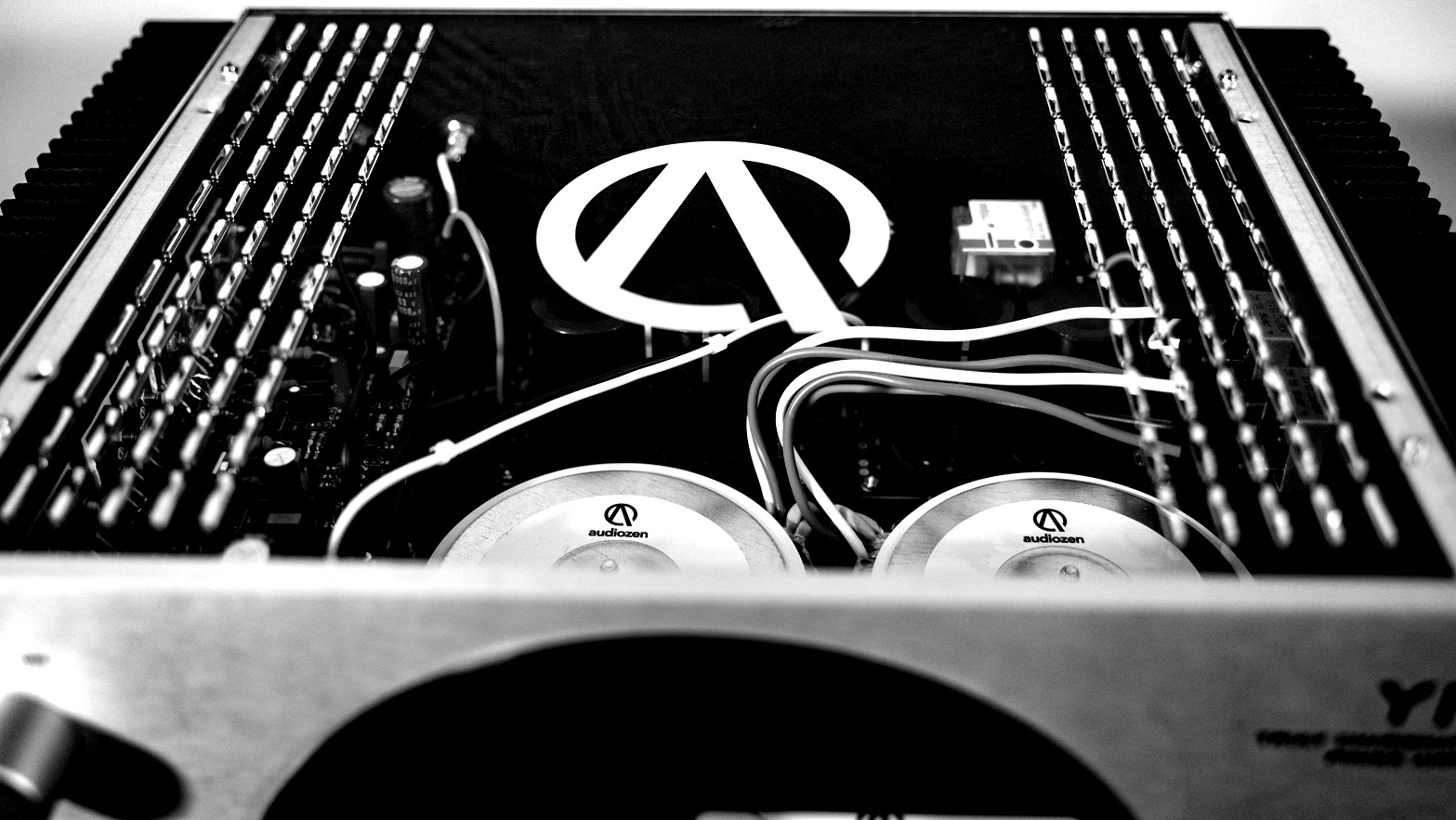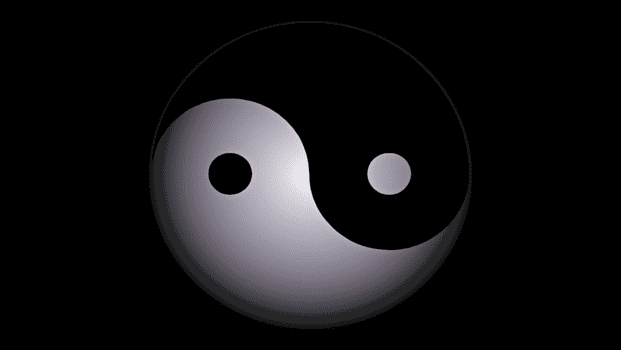 Audiozen Yin & Yang
truly charismatic monaural power amplifiers
Power ouitput @ 8Ω - 4Ω: 200 - 400 W in class AB

Power Si-C Mosfets: 6 x SIC FET 2

Toroidal transformers: 2 x 400 Watts

Frequency response: 5 - 150000 Hz +/- 3 dB

Sensitivity / Input impedance: 1 V / 20 KΩ

5 mm transparent perspex cover

Available finishes: silver & black

Dimensions and weight: 450x190x315mm (WxHxD) – 17,2 Kg.