We had to do it: the evolutionary process is not only linked to living beings but it is also related to the realizations of man. The creations of the mind and heart mature, evolve to the point of changing their skin, turning into something different, probably better, certainly something that makes the evolution explicit.
We wanted to do it: Alchemy, Audiozen's first integrated amplifier, in about five years made our approach to music known in Europe and overseas, it was highly appreciated by the public and the specialized press, and had already been internally updated to improve their driving and control capabilities.
We can do it: the vision of a new approach is the fusion of evolution and experience, where the designer and his team can lead a path free from constraints towards a higher sonic and aesthetic goal.
And in this era in which contact between human beings is almost forbidden, we have poured so much passion into this project that this time we give you the hug: the new Embrace amplifier is not an integrated, because it does not integrate but it embraces a tube preamplifier and the new Si-C Mosfets power stage.
It is not just a different way of describing, it is the necessary clarification for a creation that is itself an embrace to music: a hug cannot be fake and, at the same time, a hug has no barriers.
Features and characteristics
Two NOS tubes preamplify the audio signal that passes through fine ClarityCap ESA series polypropylene capacitors to reach the redesigned power stage equipped with the amazing second generation Si-C Mosfets (SIC FET 2) that enriches with its transparency and speed the natural and enveloping tone of the tubes.
All of this wouldn't be in perfect harmony if it weren't powered flawlessly: this hybrid configuration, this embrace of technologies is powered by a separate power stage.
Just physically separated, because it is firmly connected to the main unit via a cable of adequate section equipped with an oversized connector stable up to 30 Amps.
The separate power supply section houses three toroidal transformers: the 50 VA pair is dedicated to the preamplifier section, the massive 300 VA unit is connected to the power stage. The power switch ("hug power") is located on the front panel: in the stand-by position the Embrace' preamplifier stage only is switched on, to heat the heart of the tubes before supplying energy to the power stage when the hug power switch will be turned on.
Embrace is a creation where the position and the function of each component has been studied with meticulous precision to obtain electrical characteristics well above the standards.
In the Embrace the volume becomes the control of the hug intensity, the vu-meters are now the hug meters and the hug meters light knob will be used to switch on, attenuate or switch off the backlighting.
If a hug has no barriers, Embrace lets itself be looked at, it has nothing to hide, it wants to reassure the viewer: a transparent perspex cover constantly bares his heart.
8 mm thick Asian doussié solid wood sides, solid machined aluminum knobs, 10 mm thick aluminum front panel, sturdy rear binding posts and first class RCA connectors, remote control for volume management: all of that complete an Audiozen creation conceived without compromise.
Get hugged.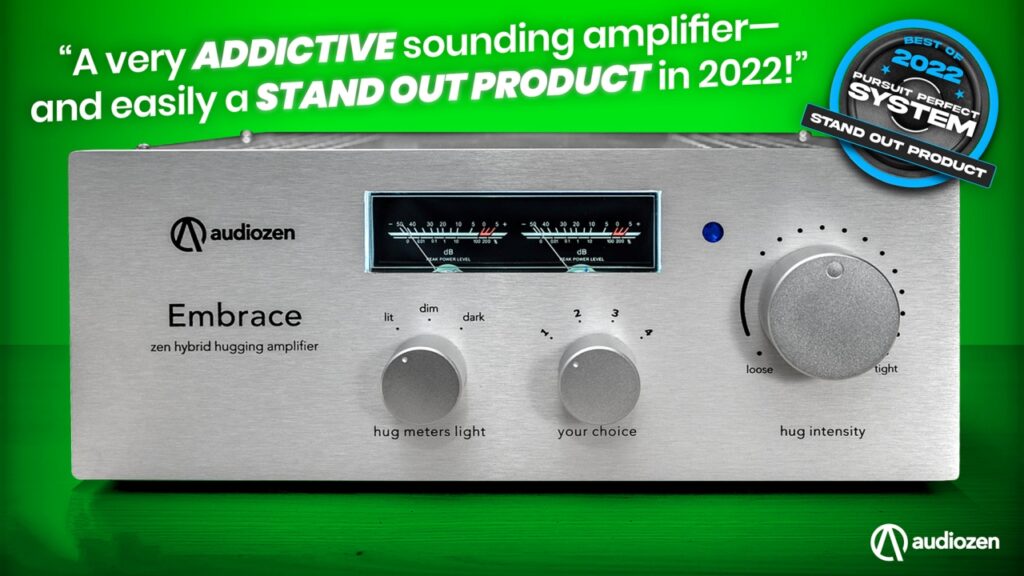 The new Audiozen Embrace hugging amplifier reviewed by Terry Ellis – Pursuit Perfect System

Mark Cargill at Elite Audio – UK Audiozen Dealer – unboxes the new Audiozen Embrace
I received your work of art (Audiozen Embrace hugging amplifier) I just set it up and my god it was such a wonderful expression of music in my life for once I felt truly embraced. Congratulation on producing such a jewel!
Sono arcicontento dell'Embrace. Un deciso passo avanti a livello estetico e a livello sonico rispetto all'Alchemy. Ho riscontrato più dolcezza ed una dinamica maggiore. Sembra che l'energia da spendere non abbia limiti! Molto, molto, molto soddisfatto. Audiozen ha fatto pienamente centro!!!
My new Embrace sounds amazing! Your workmanship is 1st class and I commend you and your team.
Audiozen Embrace
hybrid hugging amplifier
Power output @ 8Ω - 4Ω: 100 - 175 W per channel in class AB

Frequency response: 20 - 50000 Hz +/- 3 dB

Signal-to-noise ratio: 101 dB

NOS tubes: 2 x ECC82 (or equivalent)

Available finishes: silver & black

Main unit dimensions and weight: 348x138x295mm (WxHxD) – 5,4 Kg.

PSU dimensions and weight: 348x98x245mm (WxHxD) – 7 Kg.