Audiozen new power amp. What's new in it? Why it shuold be interesting?
These might be the questions you may ask yourself when landing on this page.
Marketing rules are based on numbers, without any compromises.
Numbers are important, they provide references, they come in help to know hour, date, the size of an item, how much energy it can produce, its weight, numbers are useful for anything that is measurable.
Numbers are used to draw your attention, they indicate a value which is and will be, peremptory, with no doubts.
Numbers are essential, rooted in our nature, even more than words: now we want discover a different path, we want to approach to words rather than numbers.
The new power amp P-Stone is projected to take to high level the enjoyement that it can provide.
How real enjoyement can be given?
Numbers should, then, come in help, but they are listed in the technical specifications chart, instead we want to say that the evolutionary process and awareness lead us to better goals: the choice of an imponent reinforced cabinet which holds every part of the dual mono power stage, the generous and abundant power supply unit, the use of modern and sophisticated silicon carbide (Si-C) power mosfets.
Yes, Audiozen is also innovation, since the introduction in 2019 of the monophonic amp MONO we chose to use silicon carbide mosfets for our power amp devices: it's a unique choice in Italy, and perhaps all ove the world.
These are high speed duty devices with low capacities both in input and output (up to ten time lower than a conventional mosfet): these features have the peculiarity of non "colouring" the audio signal, providing realism to the sonic event, and thanks to their high thermal conductivity they never heat up.
Audiozen designed a quasi-complementary symmetry Si-C mosfets power stage, polarized in class AB; this masterly project is enriched with a Baxandall diode, which eliminates the local Miller effect, obtaining an excellent linearity at high frequencies.
These are objectively the best ingredients for real enjoyement to ensure a sonic result beyond any suspicion, but even the eye wants its share: here is why the P-Stone massive cabinet is made entirely in aluminum equipped with excellent input and output connectors; the real innovation is on the front panel, where what you will find is words rather than numbers.
Innovation, we are the first brand equipping a power amp with a couple of analog indicators which use words instead of numbers.
The level of enjoyment meters is divided into as many pleasures areas, from the subdued and meditative level of volume "zen", to the first watt of power for the hot "sex" zone preparatory to the central zone "fun", evocative of a pure fun listening experience, reaching, by increasing the volume, the visceral "gig" (concert, live event) zone.
P-Stone is the first stereophonic power amp – totally dual mono – to listen and read, because we all are words, not numbers.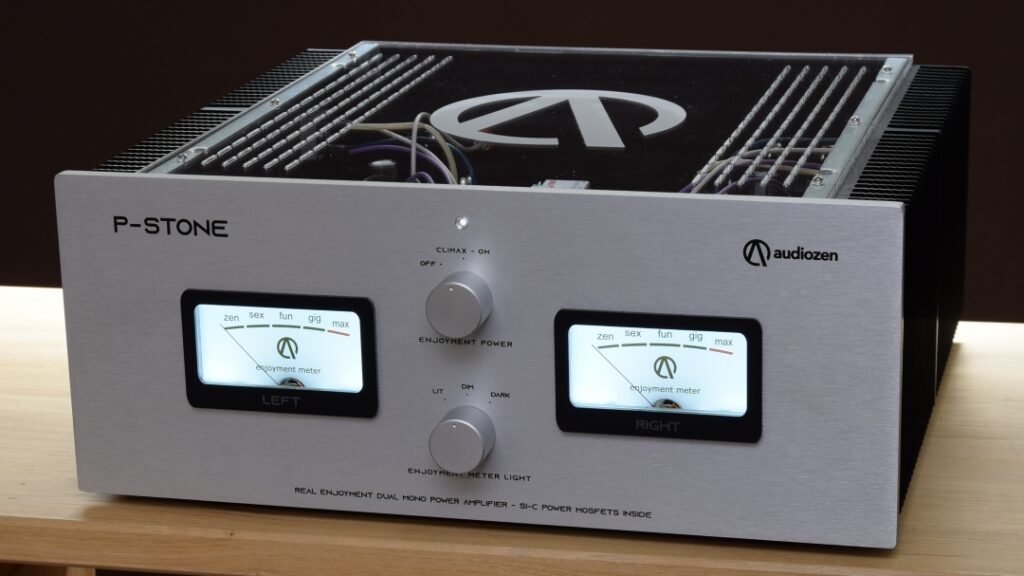 L'accoppiata Insight e P-Stone ti riconcilia col mondo dell'high-end. Macchine costruite con cura certosina, non tolgono o aggiungono nulla alle registrazioni. Il basso eletrico è asciutto, potente, controllato, non sbava assolutamente. Le voci sono piene di tutte le sfumature incise sul disco. I fiati, ti accarezzano quando devono (chet Baker ti si materializza davanti, con eleganza), ma sanno anche graffiarti. La dinamica ti sorprende, i pienissimo e i fortissimo vengono riprodotti senza che sia necessario muovere la manopola del volume, che già ad un quarto della sua corsa ti riempie l'ambiente d'ascolto. Grazie Audiozen
Everything that I have from Audiozen is sounding spectacular. The combination of the Insight and P-Stone has made my speakers sound amazing. I cannot say enough good things about what you have built! Audiozen is truly a gem in my music system.
Audiozen P-Stone
real enjoyment dual mono power amplifier
Power output @ 8Ω - 4Ω: 150 - 300 W in class AB

Power Si-C Mosfets: 4 x SiC FET 2 per channel

Sensitivity / Input impedance: 1 V / 10 KΩ

Frequency response: 5 - 150000 Hz +/- 3 dB

Toroidal transformers: 2 x 350 Watts

5 mm transparent perspex cover

Available finishes: silver & black

Dimensions and weight: 450x185x415mm (WxHxD) – 18,3 Kg.