The preamplifier for our thirteenth anniversary: since 2008 Audiozen has been continuously growing, making itself appreciated by the world of audio enthusiasts especially for its reliability and the very high quality/price ratio.
Tredici is a preamplifier designed around two NOS tubes, a pair of ECC82, each connected in totem pole, and equipped, on the input and output of the audio signal, with prestigious ClarityCap CSA series capacitors.
ClarityCap CSA series incorporates exclusive CopperConnect technology that dramatically reduces resistance in the signal path and capacitor ESR to achieve new levels of audio performance. These excellent polypropylene capacitors, never before used on electronics in this price range, help make Tredici a reference preamplifier.
A strip of red leds, placed at the base of the preamplifier under the printed circuit board, illuminate the inside of the cabinet creating a very pleasant visual effect.
Audiozen pays great attention to the power supply stage which, also in the case of the Tredici, is contained in a separate chassis: inside there are two oversized toroidal transformers and the leveling and stabilizing circuits for the delicate tubes.
The connection between the separate power supply unit and the main unit is ensured by industrial connectors, which can handle much higher currents than those required by the preamplifier.
Tredici comes with a convenient remote control for volume management.
8 mm thick Asian doussié solid wood sides, solid machined aluminum knobs, 10 mm thick aluminum front panel, first class RCA connectors, stainless steel power button: all of that complete an Audiozen creation conceived, despite the price, without compromises.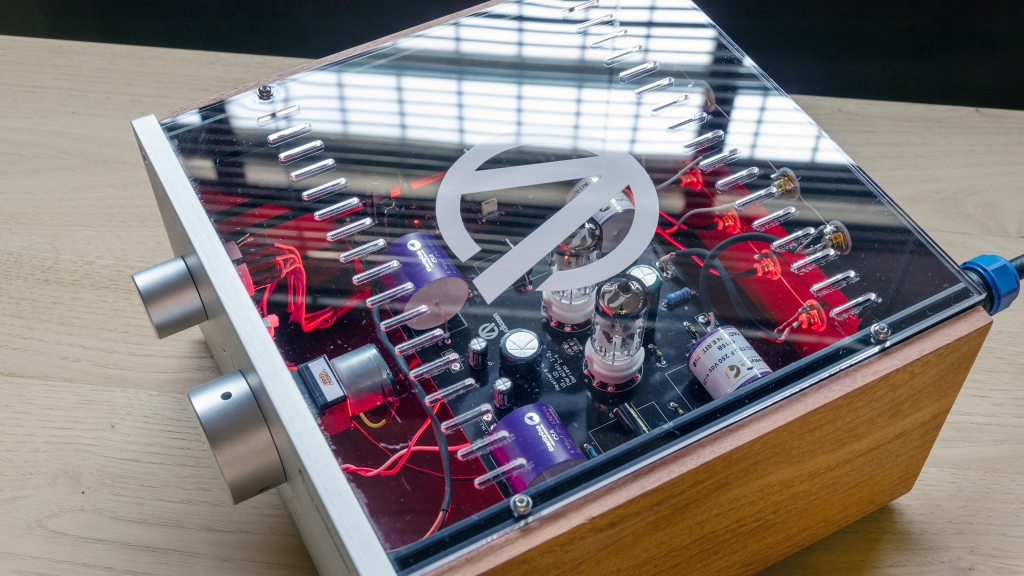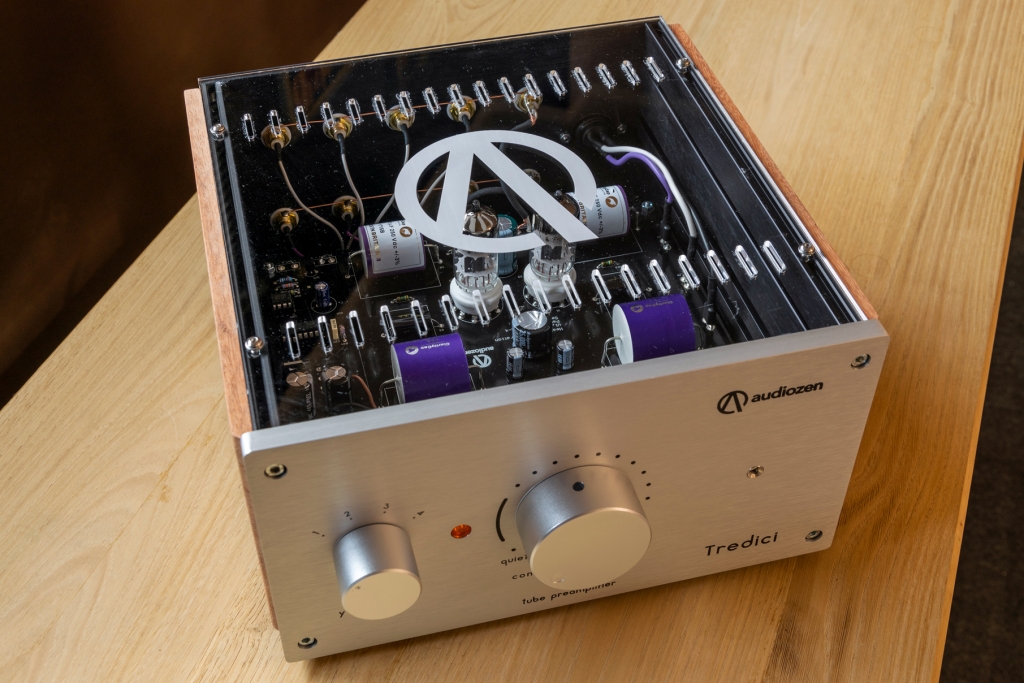 Audiozen Tredici
tube preamplifier
NOS tubes: 2 x ECC82 (or equivalent)

Line inputs: 4 x RCA - Main output: 1 x RCA

Output impedance: < 600 Ω

Toroidal transformers: 2 x 50 VA

Audio capacitors: 4 x ClarityCap CSA series

Available finishes: silver & black

Main unit dimensions and weight: 248x138x245mm (WxHxD) – 3,2 Kg.

PSU dimensions and weight: 240x98x245mm (WxHxD) – 4 Kg.